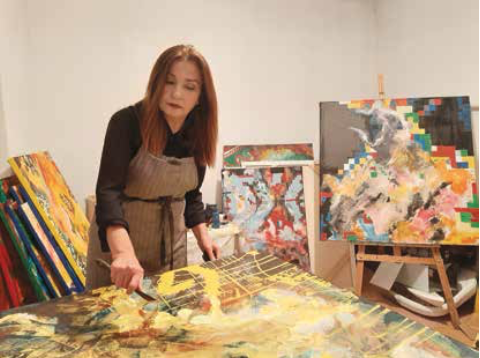 Nuran Bozkurt Ergün received basic art education and patterning lessons in Marmara University Faculty of Fine Arts, and graduated from the Department of Technical Drawing and Construction of the same university in 1991.
After graduation, the artist continued to work in the studio of Professor İsa Başlıoğlu.
She completed her graduate degree in Yeditepe University, Faculty of Fine Arts, Department of Plastic Arts in 2018, continued her research and studies on the subject of "Achieving a New Plastic Understanding with Abstraction of Our Traditional Motifs" and completed her master's thesis. She opened her thesis work exhibition in Yeditepe University Faculty of Fine Arts exhibition hall.
The artist is a member of United Painters and Sculptors Association, opened a personal exhibition in Gallery Akdeniz / Ankara in 2019.
She participated in the ARTANKARA Contemporary art fair with Keskinok Foundation in 2020, and continues working from her own studio.
Selected personal and group exhibitions:
2008 Yalova Municipality Art Exhibition - Group Art Exhibition
2009 Karizma Art Gallery / Yalova - Group Art Exhibition
2010 Kadıköy Municipality Art Exhibition - Personal Art Exhibition
2011 Barış Manço Culture Center - Personal Art Exhibition
2013 Caddebostan Culture Center - Group Art Exhibition
2015 COZY Culture Center - Group Art Exhibition
2018 Yeditepe University Exhibition Hall - Graduate Degree Thesis Exhibition
2019 Galeri Akdeniz / Ankara - Personal Art Exhibition
2020 ARTANKARA - Modern Art Fair